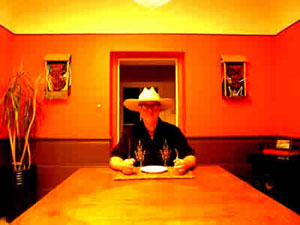 Dave Catching — studio guru, former restaurant owner, and lead guitarist of the live version of Eagles Of Death Metal — opens up about his current tastes, history, and life on tour with EODM.
How are you?
Everything is perfect- My life, The Rancho, EODM, earthlings?, everything …
What is life on tour like with Eagles of Death Metal?
The best of everything…tons of laughs, ladies, rock 'n roll, sight-seeing, museums, all night parties.
It's a dream, and we're living it.
Where else can you travel in a pop out bus, stop to rock the locals, have a dance party on the bus, then move on to another town and do it all again ?!!!
What other bands have you played with?
Damn, this is going to be a long answer ..besides EODM ?….
earthlings?, Queens of the Stone Age, Masters of Reality, Peaches, U.N.K.L.E., Red Sharks, Modifiers, Ringling Sisters, Mark Lanegan Band, Smith And Pyle, Twilight Singers, Gutter Twins, Gnarltones, The Desert Sessions, Tex and the Horseheads/Texorcist, The Bowery Boys, Yellow #5, Mondo Generator, Iron Horse, Four Piece, Four Neat Guys, Cockrock, Lihndberg Sanders Experience, The Cuntsmen, The Randy Band, The Turks, Dig Your Own Cactus, Brant Bjork, and probably more…
Catch the FULL interview @ Plug in music